Bio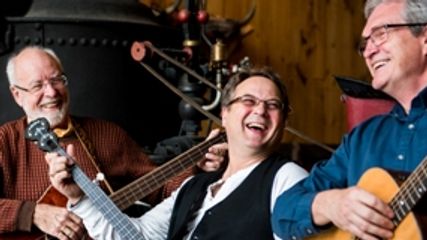 Reynolds, Robinson & Lodge may sound like a law firm, but in fact are a musical trio based in Goderich, Ontario (Canada) consisting of Mike Reynolds, Warren Robinson & John Lodge.
The long-time friends have played together in various formats for years, but a few years ago, Mike was inspired to appreciate the banjo as a lead instrument and began letting many original tunes he'd been keeping in his head flow freely.
The three had come together regularly to play music, and initially played a variety of songs but, gradually, Mike's original music became their main focus. The group's new format began to make public appearances during 2014 while working on Mike's tunes and preparing to record their first CD – Into the Wind – which was released in June, 2015 and has had great response. Their second CD – Haze Around the Moon: The Livery Sessions – was released in June, 2017, also to great reviews.
Reynolds, Robinson & Lodge offer an eclectic blend of original acoustic folk music, with influences from Bluegrass, Jazz, Celtic  & Country. And according to critics: "authentic", "clean, crisp & smooth – not unlike a fine beer" & "fabulous blend of instrumentals & vocals".